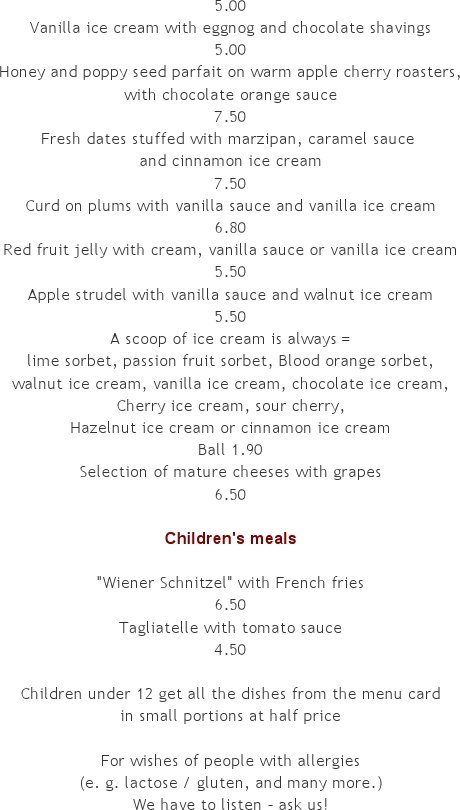 Fischbeisl
Since July 2009               28. June 2010
On the large Elbstreet located. Direct on the fish market hall resident, with Fishmonger around.
The idea is, fresh fish to traditional till mediterran uncomplicated and tasteful to prepare and to serve. The open kitchen let you participate.
To attractive prices. Accompany from a little selection very good wine, non alcoholic drinks (Fritz-coke, Bionade and ...), Jever Pils, Espresso, coffee.
In Bistro atmosphere with a lot of pictures from the harbour, fresh colours and much daylight. The crusade terminal is 5 min. remote.
We have open from Monday till Friday midday (kitchen from 12.00 till 16.00 a clock, Saturday till 18.00 a clock) open.
For celebrations, eating for groups and arrangements open we also at the evening.
To within reach by bus 383 (crusader terminal) or by s-train (Königstraße)
The new whit herring is there full taste, delicate and delicious
New fillet of white herring of black bread with fresh onions
7,50
treat bite
4,00
New fillet of white herring with roasted bacon
diced of chive sauce, with lukewarm cucumber
potato salad or roasted potatoes
7,50
treat bite
4,00
New fillet of white herring with apple
onion sour cream
and jacket- or roasted potatoes 
7,50
treat bite
4,00
New fillet of white herring with green beans,
bacon sauce and jacket- or roasted potatoes
7,50
treat bite
4,00
fish of the week
Fillet of cod, with tomato lemon sauce, salad
and jacket potatoes
7,50
Scampis with tomato, vegetables, herbs
and roasted potatoes
11,50
Our selection on meats:
Mixed salad
3,50
Fish  soup with fish diced
3,50
Potato leek soup with north sea shrimps
4,00
Home marinated salmon with chive sour cream
and salad garnish
7,50
North sea shrimps with salad of season
and cocktail sauce
7,50
Scallops roasted with salad of season
and lemon butter
9,50
Variety of hors d'oevres (marinated salmon,
white herring, north sea shrimps, and salmon fish cake)
8,00
Fish sticks in the Reinhard Gerer style,
with lukewarm potato cucumber salad
and chive sour cream
11,50
day menu
Home made salmon fish cake with
lukewarm potato cucumber salad
and chive sour cream
6,50
Fillet of plaice with north sea shrimps roasted,
salad and roasted potatoes
11,50
Tagliatelle with scallops in basil sauce
9,50
Hamburger fried pieces of cod
with leaf spinach, mustard sauce
and roasted potatoes
9,50
Fillet of pike perch grilled, with tomatojus,
salad and potatoes
9,50
Norwegian fillet of salmon with
asparagus ragout, pepper butter
and roasted potatoes
9,50
Young plaice  roasted in butter
with jacket potatoes
9,50
North sea turbot with north sea shrimps,
lobster sauce and mashed potatoes
13,50
to take a way – our delicious rolls with fish – with fillet
of white herring, soused herring with onions,
homemade salmon fish cake or home marinated salmon
2,20  - 2,50

F IS C H B E I S L, Große Elbstr. 131, 22767 Hamburg, Tel 040 / 390 72 75